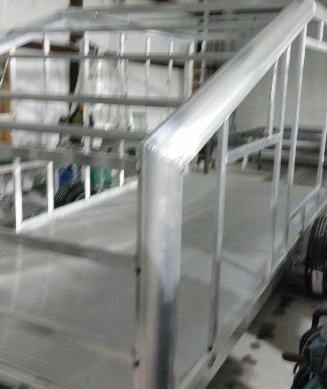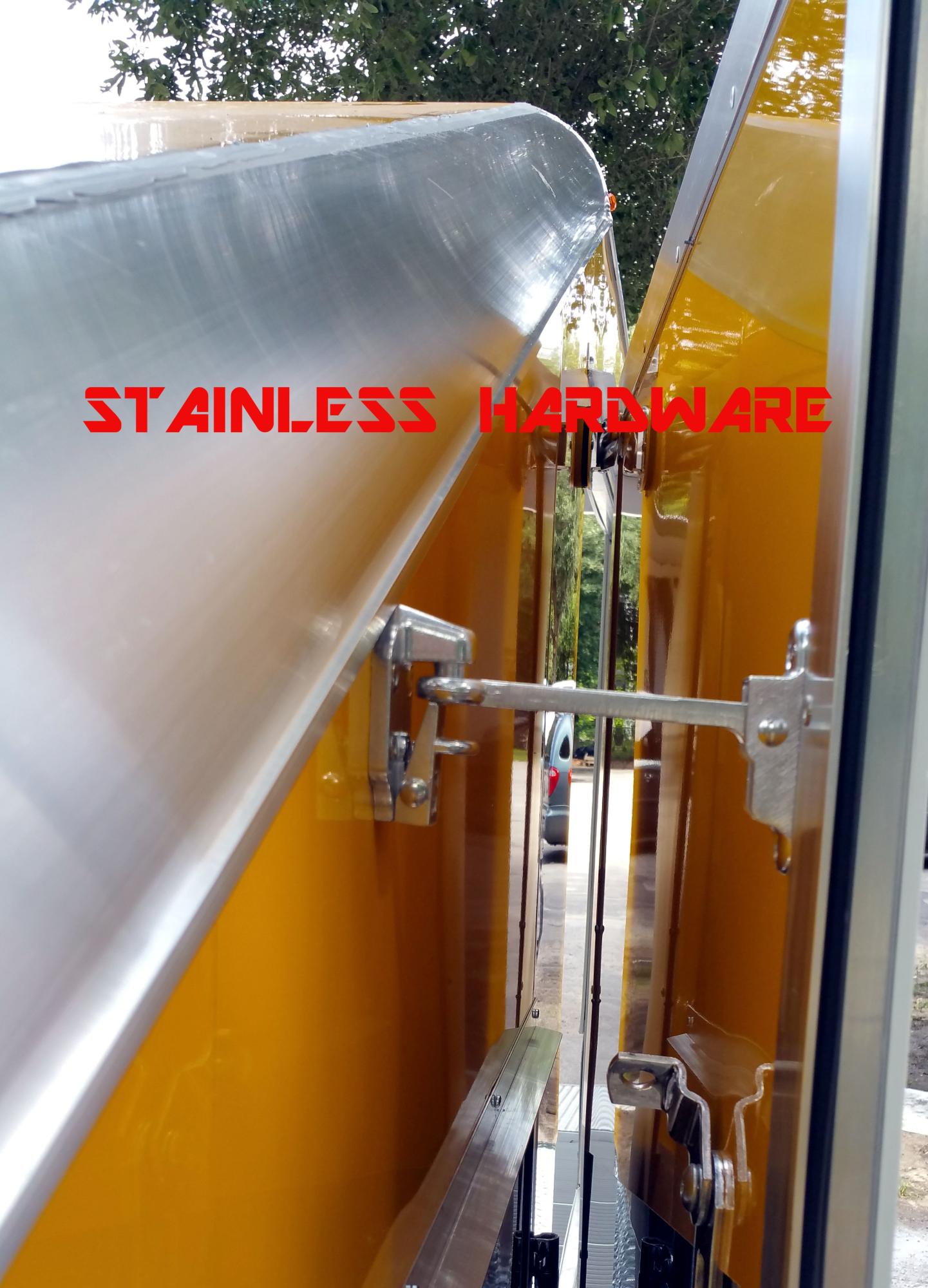 ALL SLINGTHING CAVES NOW FEATURE A FULL 84 INCH (FULL 7 FEET) CLEAR SPAN OPENING WALL TO WALL WITH NO INTERIOR WHEEL WELLS
AVALIBE NOW FOR ORDER
THE ALL NEW 18 FOOT SLINGTHING CAVE COMBO
IT CAN BE SET UP TO HAUL YOUR SLINGSHOT OR YOUR HOT ROD, CORVETTE, VIPER, A COUPLE MOTORCYCLES, SIDE BY SIDE, IT'S YOUR CALL.
IT STARTED WITH THE IDEA THAT WE COULD BUILD A SAFE, SECURE PLACE TO KEEP YOUR SLINGSHOT WHEN YOU ARE TRAVELING OR JUST AT HOME. SOMETHING SLEEK. SOMETHING SECURE. SOMETHING PRIMAL FOR YOUR SLINGSHOT.
YOU NEED A SLINGTHING CAVE!
OF COURSE THE SLINCAVE COMES LOADED WITH STANDARD
FEATURES, ADDING VALUE THAT OTHERS CONSIDER OPTIONAL
DEXTER E-Z LUBE 3500# TORSION AXLES WITH ELECTRIC BRAKES, ENSURING A SMOOTH RIDE AS WELL AS SAFE STOPS

CUSTOM ALUMINUM WHEELS WITH RADIAL TIRES

HEAVY DUTY 6 FOOT TALL, FULL WIDTH TAILGATE/RAMP WITH TAIL FLAP AND STAINLESS STEEL TORSION SPRING ASSIST, NO WIRES TO GET CAUGHT UP IN

FULL 84 INCH OPEN SPAN

WITH PLENTY OF CLEARANCE AND NO INSIDE WHEEL WELLS

2 FRONT WHEEL ACCESS DOORS FOR SIMPLE QUICK STRAP DOWN

OUR EXCLUSIVE WHEEL CHOCKS AND OVER THE WHEEL TIE DOWN STRAP SYSTEM

HD DIAMOND PLATE FENDERS

HEAVY DUTY RAM 2-5/16" COUPLER, SAFETY CHAINS AND 7 WAY CONNECTOR

TONGUE JACK & WHEEL

PAIR OF HEAVY DUTY ALL STEEL REAR BOGIE WHEELS

2 OPENING SIDE WALL VENTS

ALL L.E.D. INTERIOR AND RUNNING LIGHTS

SIDE WALLS INSULATED AND FINISHED WITH GLOSS WHITE ALUMINUM (CEILING OPTIONAL)

ALL ALUMINUM CONSTRUCTION WITH CONTINUOUS C-CHANNEL CHASSIS

.040 PREMIUM ALUMINUM SKIN WITH YOUR CHOICE OF COLORS

4 STAINLESS STEEL 4000# FLUSH MOUNTED TIE DOWN RINGS

SOLID EXTRUDED ALUMINUM DECK WITH 36" BEAVERTAIL

3 YEAR WARRANTY

CHECK OUT OUR OPTION PAGE FOR MORE GREAT IDEAS TO PERSONALIZE YOUR SLINGCAVE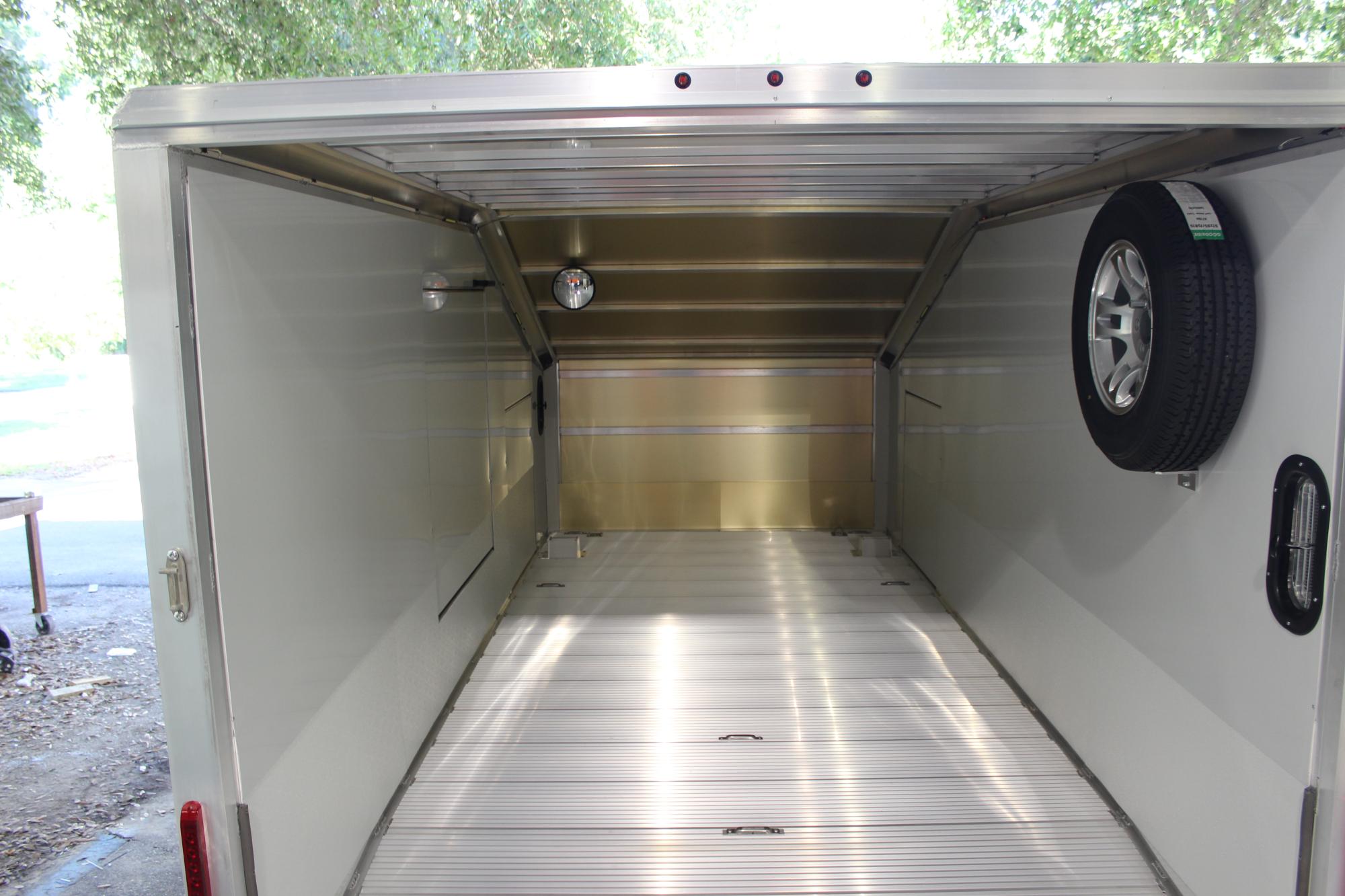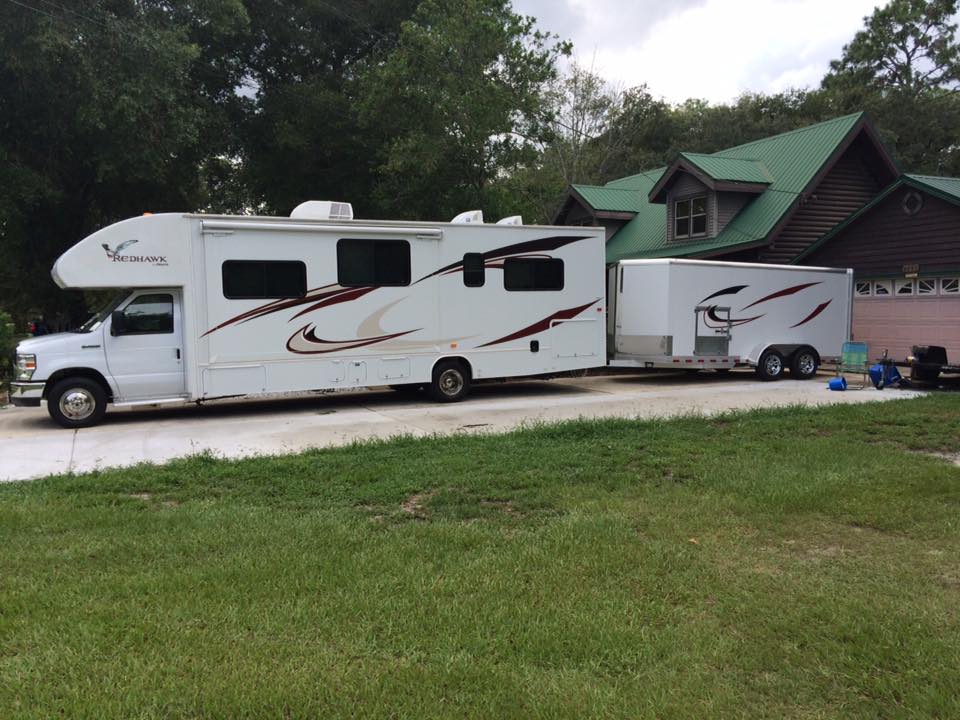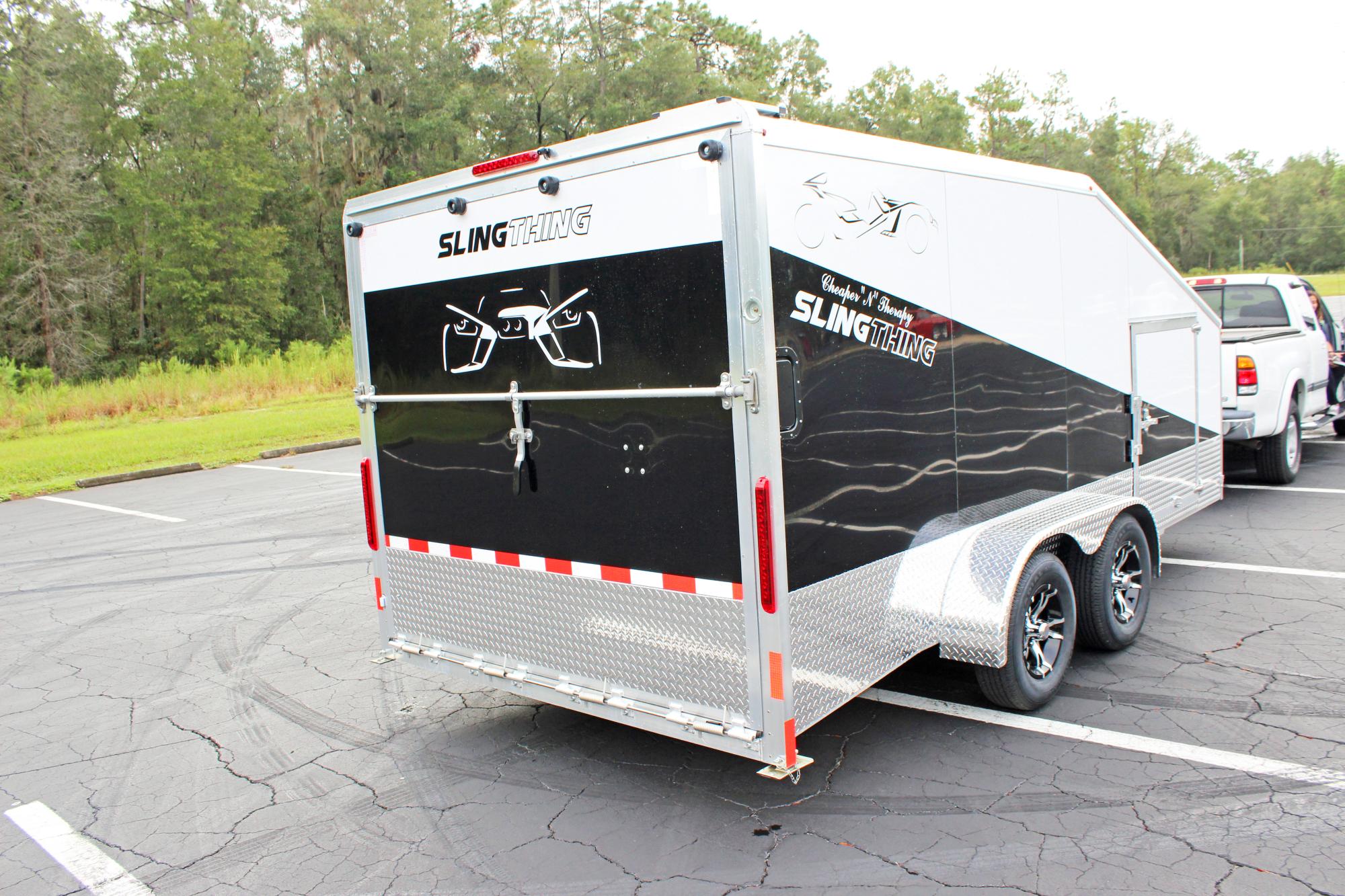 GARMIN CAMERA LOAD GUIDANCE SYSTEM.
WATCH YOURSELF LOADING ON YOUR Gamin GPS
SOME ITEMS IN THE PICTURES ARE OPTIONAL EQUIPTMENT AT ADDITIONAL COST
YOU CAN HAVE US CUSTOMIZE YOUR SLINGTHING CAVE FOR A VARIETY OF USES VERY ECONOMICALLY WHILE IT IS IN THE BUILD STAGE. FOR EXAMPLE, WE CAN CONFIGURE IT TO HAUL YOUR MOTORCYCLES, 4-WHEELER, GOLF CART, ETC. IT CAN BE SET UP WITH AIR CONDITIONING, RV 30 AMP HOOK UP, CAMPER STYLE WINDOWS. LET US KNOW WHAT YOU NEED IT TO DO FOR YOU AND WE WILL MAKE IT HAPPEN. WE WANT TO BUILD YOU THE TRAILER YOU WANT..NOT THE ONE WE THINK YOU NEED. LET'S GET YOUR BUILD STARTED TODAY.
SLINGTHING CAVES ARE AVAILABLE IN 3 MODELS
SC-8414-SA.............................14' SINGLE AXLE
SC-8416-TA..........................16' TANDEM AXLE
SC-8418-HD-TA.................18' TANDEM AXLE